Introduction
Kayaking is an awesome sport and outdoor activity, but it's not really the most hassle-free one. Not only are kayaks around 12-18 ft (or even longer), but they also come loaded with a bunch of accessories; paddles, spare parts, life jackets – you name it.
All combined, this can make storing a kayak in an apartment fairly challenging. Especially if you live in an already cramped space in the city. So exactly how do you store a kayak in an apartment so that it's safe and out of the way?
In this article, we'll discuss the best tricks to store a kayak inside your apartment, what your alternative options are, and what you should take into consideration before the big move.
Why you should store your kayak in your apartment
There are a few reasons as to why you would want to store a kayak in your apartment. Storing it outside comes with its own risk factors. So if not outside, go inside, right? Here are seven good reasons why you should store it within the safety of your apartment.
Convenience – You will never have to wonder what shape your kayak is in when it's living under the same roof. It is especially convenient to keep your kayak inside so you can just grab it and go whenever you want to head out on your next trip.
It also makes it handy to have it nearby in case you need to patch or repair any part. Simply, having all your gear stored in one place just makes everything much easier to find.
Can take it on spur of the moment trips – If your kayak is stored inside your apartment, this encourages spontaneous trips. If your kayak were to be stored elsewhere, going on such random trips would suddenly become complicated.
How do you go pick it up? Is it far? Do you need to contact someone to get access to it? When you keep your kayak equipment with you at all times, this invites spur-of-the-moment trips.
No restrictions – That said, storing a kayak inside your apartment is especially freeing. You don't need to rely on anyone else in case you need or want to have access to your kayak. You can come and go as you please without having to bother your neighbor or friend.
Security – Keeping your kayak inside the safety of your home is the best way to keep it secure. Otherwise, and unless you have camera footage rolling 24/7, you'll be left wondering if your kayak is indeed safe and secure when you're not there.
Care and maintenance – Where better to care and maintain your kayak in excellent condition than inside? This way, not only is your kayak protected from the elements (i.e. harmful UV rays), but it is also safe from external damages and theft.
No extra travel time – Had an urge to load up your kayak and head straight for the water? At least when your kayak is stored inside your apartment you can go straight from your home to your destination without having to waste time and go out of your way to go pick it up first.
Why you shouldn't store your kayak in your apartment
As there are advantages to storing your kayak in your apartment, so are there disadvantages. Here are just a few to think about before dragging it inside.
Smell – If you don't properly cleanse and sanitize your kayak after each use, a mildew smell will likely start to fill your nostrils. That wet-towel stench can become particularly overpowering, especially in small apartment spaces with poor ventilation.
Dirt – Kayaks trudge through dirty water, seas filled with algae, and lagoons full of debris. Leaves will stick to the sides and so will dirt as you carry it on-shore. Unless you get it a good rinse before bringing it inside, it's possible your kayak will bring its dirt into your apartment.
Space – Obviously, one of the biggest disadvantages of storing a kayak inside your apartment is space. Limited space, to be exact. Kayaks take up lots of room. That is, unless you have a folding, inflatable, or sectional kayak which can be broken down into smaller parts.
If you have a full-sized kayak whose parts cannot be removed, then you will need to rely on a very big garage and closet or ample yard space for storing it.
Need a method and area to clean it – If you can't clean your kayak before you get home, how do you clean it once inside without making a mess?
If your kayak is too big to fit comfortably inside your home, there's no chance that you'll be able to clean it off in the tub! Unless you have a backyard or a balcony, cleaning it – as in washing it off and letting it dry – will be another hurdle you'll have to jump over.
What to consider before storing your kayak in your apartment
Storing a kayak in an apartment isn't going to be the best solution for everybody. That said, here are a few reflection questions to help you decide whether or not it is indeed a good idea, based on your lifestyle, to store your kayak inside your apartment or studio.
How often do you use it?
Can you store it at the location you paddle at?
Can you rent / borrow instead of buying?
What floor do you live on? Are there stairs?
Can you easily get in and out of your apartment complex?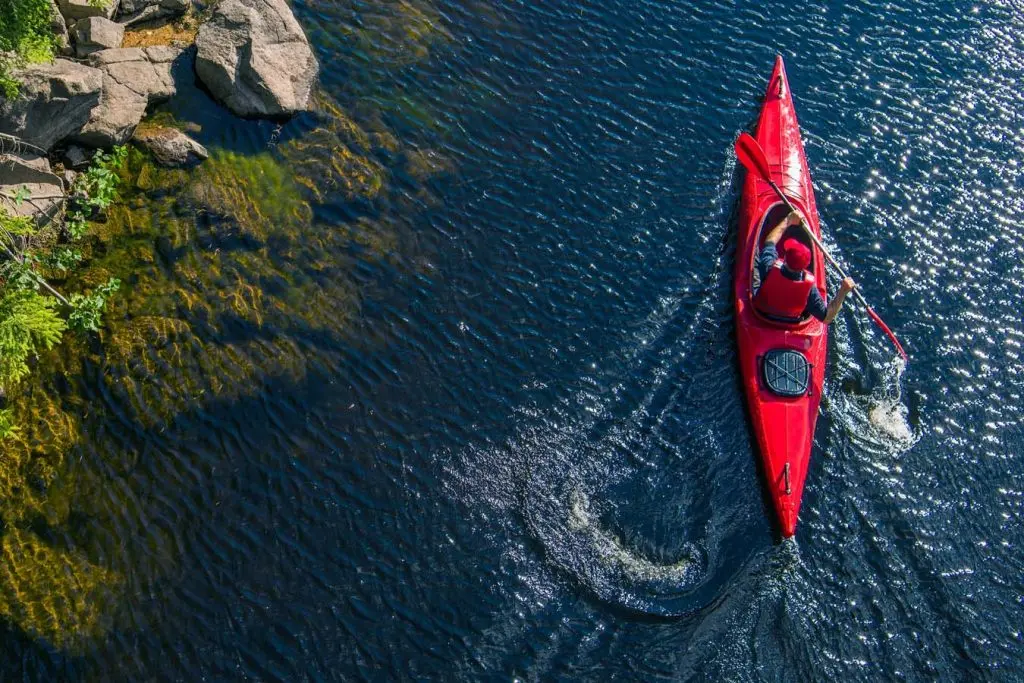 How do you store a kayak in an apartment?
Should you decide to go ahead and store your kayak in your apartment, then you might find these different tricks and storing techniques helpful.
Hang from ceiling
When you have no horizontal floor space, think vertical! One of the best ways to store a kayak in a small apartment is to suspend it from the ceiling using a suspension system. You can even make your own DIY ceiling storage system too. Now you don't need to worry about tripping over your kayak or having it get piled under a bunch of other storage items.
Hang from wall
If the ceiling doesn't help, look to the wall. If you have an empty wall in your living room, hallway, or bedroom then it might just be the perfect spot for storing your kayak. This can be done via a designated wall mount for storing canoes and kayaks.
Build a small vertical storage rack
Don't have as much horizontal wall space as you do vertical? Then you can always build your own nifty storage rack so your kayak stands up parallel to the wall.
What's important to note with this storage method is that you need to protect the bottom from hitting the floor. You can use anything from foam padding to pallets to cut-out storage boxes.
Floor
The floor is another option for storing a kayak inside. You can either tip it up on its side so it lays flat against the wall, or have it lay flat on the hull. This might be handy if you want to store your other kayak equipment inside or on top.
This can also create its own problem, though, so be mindful not to stack other non-essential items on top so as to not damage it.
Balcony
If you have an apartment with a balcony, then you can most definitely store it outside using a simple kayak rack or wall mount. To protect it from the wind, rain, and sun, you should consider covering it up with a plastic tarp.
Other apartment storage options
Have you exhausted all the ways to try and store your kayak inside your apartment? If so, don't give up just yet! The below alternatives just might be the solution you're looking for.
Leave on car
If you own a kayak, chances are you own your own car. If it's not too much of a hassle, you could always store your kayak on top of your vehicle and protect it with a secured tarp.
That way, you don't need to even bother with unloading/loading it when you're ready to go on your next adventure.
Roof of apartment building
Some apartment complexes have access to a roof. This could be a great option for those who don't have any storage actually inside the apartment. If you store it where others can access it, make sure to buy a hefty padlock and lock it to something secure and stable.
Rent a storage locker
If you kayak often and you find it worthwhile, you could always foot the monthly bill to have your kayak safely stored away in a storage locker near you. This option is ideal for those who kayak now and then, but who aren't weekly kayakers.
Inconspicuous space outside
Got any room outside, at all? If so, try and devise up a sneaky way to store your kayaks in plain sight. You don't want it to get stolen, so make sure to cover it so it's not easily noticeable from your street or yard.
As always, as long as you store your kayak outside you should have it padlocked to something stable and secure so that it cannot be broken and taken.
Buy a folding kayak
A folding kayak is often the solution for many people living in cramped apartments. With a folding kayak, you can simply pack and compact it and store inside any closet. You could even store it under the bed!
Buy an inflatable kayak
Inflatable kayaks are another solution to near-zero storage space. You can simply deflate your full-sized kayak down completely and store it just as you would your luggage in your closet.
Inflatable recreational kayaks are becoming more and more popular as folks living in the city seek nature and the outdoors yet within the constraints of their apartment's storage space.
Buy a sectional kayak
A third option that would better suit a small apartment is buying a sectional kayak. As its name suggests, a sectional kayak breaks down into 2-3 sections, based on the type and style of kayak you buy.
That means you could store even a lengthy tandem kayak in your apartment as it would break down into three easy-to-store parts.
Lock it to your apartment bike racks
Your apartment complex is likely to come with its own bicycle storage facility. If you don't own a bike, you could consider using one of your allotted spaces for your kayak.
Of course, make sure to heavily secure it to the bike rack. You will also want to consider wrapping it in a protective tarp or sleeve to ensure it doesn't get accidentally scratched up by other apartment dwellers.
Store at local sailing / kayak club
Oftentimes, your local kayak club will have boat or kayak storage options for rent. If you have such a place near you, it would be worth inquiring about. Perhaps the monthly fee wouldn't be too expensive depending on where you live and what type/size of kayak you wish to store.
At your neighbors or someone else's backyard
If your place just doesn't have the room, you could always ask a trusted neighbor or friend to store your kayak for you. This could be either as a courtesy or as a paid exchange.
Either way, it allows you to keep your kayak nearby but not taking over your space inside your home. The main con with this storage option is that you become heavily reliant on that person in order to access your boat.
Store at work
While you might think it unlikely, there are many businesses and companies that encourage outdoor activities that might allow you to store your kayak at work. If you are able to pull some strings, this would be a great way to keep your kayak in check every day while you're on your lunch break.
And who knows, maybe you could even go for a paddle as soon as you get off work! That would be a nice way to end the day, right?
Summary
Kayaks are typically big and cumbersome. Storing them can pose as a real challenge, especially if you live in a small cramped apartment without any ample storage space.
Although it's not ideal to have your kayak stored somewhere else, there are other storage alternatives that may work for you. When in doubt, ask a trust-worthy friend, neighbor, or even colleague to see if they can help you out!